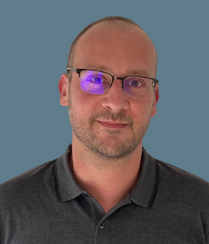 Explain your job to a 10-year-old or to your grandmother/grand-uncle/nephew, etc.
I am involved in improving and expanding drug and fragrance companies.
What is your educational background?
I started in the military at a very young age, after secondary school and for 5 years. I then went to school to get my high school diploma in "Maintenance of industrial equipment" then a technical degree in "Mechanics and industrial automation" and finally a formation in project management.
How did your adventure at Pharmacos begin and why did you choose Pharmacos?
It all started when my first contact with Elsa, the recruitment officer. We exchanged ideas and I felt it was time for me to experience something new. Then Matthieu Servida and Thibaud Nahon presented the Chartres agency project to me, I was seduced and I jumped at the chance… I had been working for one of our clients for 10 years.
What aspects of your job do you enjoy the most?
I really like the diversity of the projects and the knowledge to be acquired. I also enjoy the exchanges I can have with our clients in different areas. My tasks are very varied, no two days are alike!
How did Pharmacos help you develop your skills?
This is one of the great strengths of Pharmacos! In each situation, an expert is available to accompany us and show us the tricks of the trade.
What three words best describe Pharmacos for you?
Dynamics, Cohesion, Challenge.
What advice would you give to new recruits?
To go for it with your eyes closed and not to stress.
What do you like most about Pharmacos?
Team spirit, without any hesitation.
What has been your proudest moment since you have been at Pharmacos?
Right from the start, when I walked through the door of the Chartres agency… Ok, without any furniture but already with a lot of projections. 😉
From your point of view, what is Pharmacos' added value on the fixed-price consulting and engineering market?
Pharmacos has a team of specialists in all fields.
What is your dream activitity for the next team building?
A ride on a snow scooter or sleigh!!! 😉